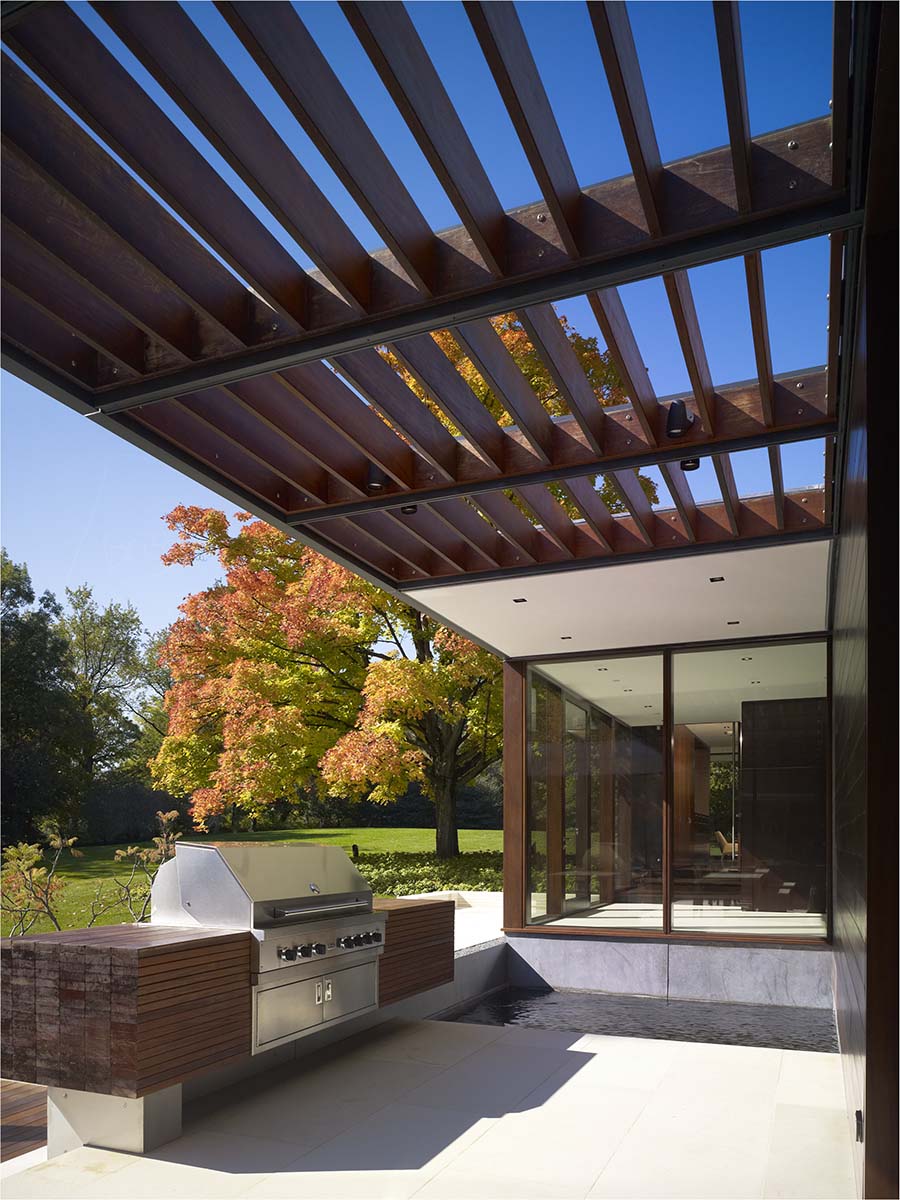 Rigorous parameters shaped the design of this weekend residence, three interconnected pavilions which create an architecturally dramatic, single-story house for three generations of family.
The main pavilion is at the epicenter, where everything social happens ~ cooking, dining, lounging. "It's visually the most beautiful and physically the most comfortable part of the house; everybody wants to be there."
Along its Southern exposure opens large sliding glass door panels which instantly wipe out any boundary between indoors and out. A dramatically cantilevered structural steel and Ipe wood brise-soliel modulates the hot sun and provides shade to an elevated outdoor dining terrace.
To the North, horizontal ribbons of structural steel shelves run in front of a 16 foot high translucent channel glass wall which backlights the Grand Space alongside a rather muscular in-situ architectural concrete wall placed for privacy.
The second pavilion is slightly elevated following the natural contour of the site housing the Master Suite whereas the third is strictly for guests, to lounge, daydream or retire, or to descend to the exercise room which opens up to the midnight blue swimming pool.
The residence is simple, honest and tactile; a warmly textured palette of natural materials ~ lead coated copper, channel glass, mahogany, steel and architectural concrete. But perhaps it is most successful in its ethereal quality, its ability to be agile and gentle.
Location: Long Grove, IL

Design: 2007-2008

Construction: Fall 2008-Summer 2011

Design Principal: Thomas L Shafer AIA

Project Architect: Scott Crowe AIA

Project Team: James Swann, Jamie Holt

General Contractor: Hewitt Horn Inc.; Domain Properties LLC

Structural Engineer: Enspect, Inc.

Mechanical Engineer: BES

Interior Design: Jessica Lagrange Interiors LLC

Landscape Architect: Mark Allsup Landscape Designer

Landscape Contractor: Burham Design Group

Pool Contractor: Boilini Company

Photography: Steven Hall, Hedrich Blessing Photographers